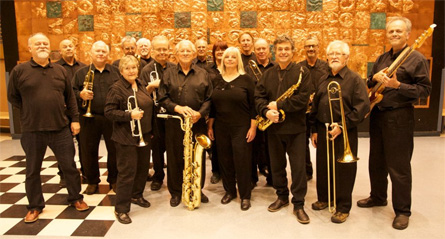 The Creek Big Band loves to play big band swing, jazz, blues, and latin music for listening or dancing. It is made up of unpaid volunteer musicians who contribute their time and talent for the benefit of Sunshine Coast music students and audiences. The money earned from their paid performances goes toward scholarships for Sunshine Coast students going on to further music studies, and toward miscellaneous band expenses. Their leader is Graham Ord and they are graced with vocals by Crystal Spence.

Other members of the Creek Band are: Lead Alto - Carl Montgomery, 2nd Alto - Lorne Berman, 1st Tenor - Cherry Bolognese, 2nd Tenor - Graeme Green, Baritone sax - Ken Grunenberg, 1st Trumpet - John Frederickson, 2nd Trumpet guest - Walter Martella (Solo Trumpet), 3rd Trumpet - Karin Tigert, 4th Trumpet - Ken Huffman, 1st Trombone - Bryan Airth, 2nd Trombone - Bill Wishlow, 3rd Trombone - Jim McGowan, student guest Sage Swann (from Elphi) 4th Trombone - Gord Catherwood, Guitar - Dave Morgan, Piano - Carolyn Mitchell, Vibes - Val Anderson, Bass - guest Jack Cooper, (Elphi Student) Gord Beynon, Drums - Al Burns, guest Regan Haydu.
Visit their facebook page at Creek Big Band.